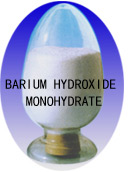 * CHEMICAL NAME£ºBARIUM HYDROXIDE MONOHYDRATE
* MOLECULAR FORMULA & MOLECULAR WEIGHT£ºBa(OH)2.H2O=189.36
* TECHNICAL INDEX£º
INDEX NAME
EXCELLENCE
QUALIFICATION
APPEARANCE
WHITE GRANULOSE CRYSTAL
WHITH GRANULOSE CRYSTAL
CONTENT % ≥
99
98
BARIUM CARBONATE % ≤
1.0
1.5
CHLORIDE£¨CL¡¥£© % ≤
0.3
0.5
IRON£¨Fe£© % ≤
0.003
0.005
INSOLUBLE MATTER IN HYDRO-CHLORIC ACID % ≤
0.2
0.3
DENSITY

1.40
1.40
* CHARACTER£ºWHITE CRYSTAL£¬SOLUBLE IN WATER£¬ETHANOL AND ETHER.
* USE£ºUSED TO PRODUCE BARIUM SALTS,LUBRICATING GREASE, MULTI-EFFICIACY ADDITIVE IN PETROLIUM INDUSTRY,REFINING OIL,PURIFYING AGENT OF SUCROSE.AND USED IN THE FIELD OF MEDICINE, PLASTIC, GLASS,PORCELAIN ENAMEL DOPE ETC.
* PACKING£ºPACKED IN POLYPROPYLENE BAG,LINED WITH POLYETHYLENE,25KGS/BAG NET.
* STORAGE TRANSPORTATION:KEEP IN A DRY WAREHOUSE.BE PACKED XLOSELY AND KEEP AWAY FROM ACID.AVOID RAINING AND SHINING WHEN TRANSPORTATION.