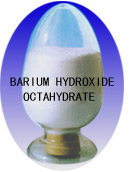 * CHEMICAL NAME:BARIUM HYDROXIDE OCTAHYDRATE
* MOLECULAR FORMULA & MOLECULAR WEIGHT£ºBA(OH)2.8H2O=315.47
* Specification:HG/T2566-2006
INDEX NAME

EXCELLENCE

FIRST CLASS

WHITE GRANULOSE CRYSTAL

CONTENT % ≥

98.0
96.0

BARIUM CARBONATE % ≤
1.0
1.5
CHLORIDE£¨CL¡¥£© % ≤
0.05
0.30
IRON£¨Fe£© % ≤
0.003
0.010
INSOLUBLE MATTER IN HYDRO-CHLORIC ACID % ≤
0.05
--
NON-SENDIMENT IN
SULPHRIC ACID % ≤
0.05
--
IDINE REDUCTION
MATTER£¨S£© % ≤
0.1
--
* CHARACTER:WHITE CRYSTAL,SOLUBLE IN WATER,ETHANOL AND ETHER.
* USE£ºMAINLY USED IN PETROLEUM PROCESSING,REFINING ANIMAL AND PLANT GTEASE,FINE CHIMICALS,DAILY-USED CHEMICALS AND PRODUCING BARIUM SALTS AND SO ON.
* PACHING£ºPACKED IN POLYPROPYLENE BAG,LINED WITH POLYETHYLENE,25KGS/BAG NET.
* STORAGE TRANSPORTATION£ºKEEP IN A DRY WAREHOUSE.BE PACKED CLOSELY AND KEEP AWAY FROM ACID.AVOID RAINING AND SHINING WHEN TRANSPORTATION.