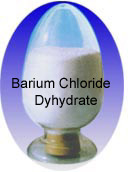 (1)Chemical name:Barium Chloride Dyhydrate
(2)Molecular formula & molecular weight:BaCl2.2H2O=244.277
(3)Specification:GB/T1617-2002
Index Name

Index

Excellence

First Grade

Qualifica_
tion

Purity % ≥

99.00

98.00

97.00

Calcium£¨Ca) % ≤

0.036

0.090

--

Sodium£¨Na) % ≤

0.20

--

--

Sulphide£¨S£© % ≤

0.003

0.008

--

Iron£¨Fe) % ≤

0.001

0.003

0.02

Water insoluble matter % ≤

0.05

0.10

0.20

(4)Character:Colourless,flat rhombus crystal,usually with two crystal water.Specific gravity:3.097(24/4¡æ).Dissllving point:962¡æ.Boiling point:1560¡æ poisonous.Wash in water whin getting in on the skin.After poisoning,take sodium sulphate or magnesium sulphate.
(5)Use:As a raw material for producing bariumn salts,such as barium¡¢hydroxide¡¢barium nitrate and barium carbonate etc.Widely used in papermaking¡¢dyestuff¡¢rubber¡¢plastic¡¢ceramics¡¢iol refining and petrochemistry and so on.Also used to heat-treat the metals and remove sulphate in the salt water in chlorine-alkaki industry.
(6)Storage and transportation:Keep dry and prevent damp.
(7)Packing:Packed in polypropylene bag,lined with polyethylene bag,50kgs or 25kgs/bag net.