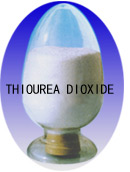 * CHEMICAL NAME£ºTHIOUREA DIOXIDE OR FORMAMIDINE SULFINIC ACID
* MOLECULAR FORMULA & MOLECULAR WEIGHT£ºCH4N2O2S=108.12
* TECHNICAL INDEX:ZBG13003-90
| | | |
| --- | --- | --- |
| INDEX NAME | EXCELLENCE | QUALIFICATION |
| CONTENT % ¡Ý | 99.0 | 96.0 |
| THIOUREA % ¡Ü | 0.10 | 1.0 |
| SULPHATE£¨SO4£© % ¡Ü | 0.17 | 0.27 |
| IRON£¨Fe) % ¡Ü | 0.001 | 0.001 |
| MOISTURE % ¡Ü | 0.05 | 0.10 |
* CHARACTER:WHITE AND SMELLESS POWDER,A KIND OF STABLE COMPOUND WITH NO OXIDATION AND NO REDUCTION.26.7G/L(20¡æ)OF SOLUBILITY WATER AND 5.0 OF PH VALUE IN A SATURATED SOLUTION OF WATER.KEEP A QUITE STABLE STATE EVEN IF THE TEMPERATURE OF THE WATER SOLUTION IS 20-30¡æ,BUT IT WOULD BE CONDUCTED IF A HEAT OR ALKALI CONDITION IS GRVEN AND SULPHONIC ACID DISSOCIATED.
* USE£ºMAINLY USED IN DYEING INDUSTRY STEAD OF USING OF SODIUM HYDROSULPHITE AND THEN USED TO ORGANIC SYNTHESIS IN SYNTHETIC FIBRE INDUSTRY.ALSO USED AS ADDITIVE OF POLYMERIZATION, STABILIZER FOR POLYTHENE SENSITIZER OF PHOTOGRAPHICAL EMULSION AND SO ON.IT HAS THE MERITS OF SAFETY IN STORE AND TRANSPORT ATION AND A HIGH VALUE WITH REDUCTED POTENTIAL.ESPECIALLY SUITABLE FOR DYEING AND BLEACHING UNDER THE CONTINUOUS HIGH TEMPERATURE CONDITION.
* STORAGE AND TRANSPORTATION£ºKEEP IT IN A COOL, VENTILATED,DRY PLACE,AND STRICTLY KEEP AWAY FROM DAMP,SHINING,RAINNING,AND NOT BE MIXED WITH THE OXIDIZER WHILE TRANSPORTATION AND STORAGE.
* PACKAGE£º25KGS(PACKED WITH BAG)AND 50KGS(PACKED WITH DRUM).